Home
Up
Abraham and the Covenant
Crying Holy
Church Structure
The Priesthood
Tabernacle Teachings
Blood Covenant
The Word
Word to the Body
Poetry
Huldah's Haggadah
NEW
November
Newsletter
Tabernacle Teaching

The Shewbread Table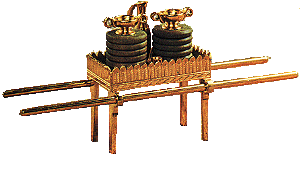 Ex. 25:23-30 Heb. 9:2 Heb. 1 John 14:9 2 Cor. 4:6
Lev. 24:5-9 Ex. 29:33 Col. 2:9 John 17:14 Isa. 14:12
This Shewbread table is located in the Holy Place in the Tabernacle in the Wilderness and held twelve loaves that became hallowed there in the presence God. The table was made of acacia wood and encased in gold and the bread thereon was food for the sons of the High Priest. When the articles in the tabernacle are solid, they speak of the Son of God who created all things. but became a man.. The ones that were fashioned of acacia wood and encased in gold speak of Jesus who is perfect man and perfect God. Always remember that we (the children of God by new birth) are the holy priesthood of the new testament, with Jesus Christ as our High Priest.
The translation of Shewbread in the Hebrew is "Bread of Faces", "Shallah", and "Bread of His Presence". Shallah means "pierced" and this bread was pierced and placed on racks in an earthen oven, and the racks burned a cross on the back of the bread. Then the anointing oil was sprinkled thereon. Can't you see our Bread from heaven with a cross on His striped back going to Golgotha to finish the work of atonement? Do we have a burning desire to see God and to know Him intimately? As we read in John (14:9), when we see Jesus. we see the face of God. James said we are changed into His Image in the Face of Jesus Christ. Jesus introduced Himself as the Bread from Heaven...why He even came down to Bethlehem (which means House of Bread). The shewbred was pierced and anointed with oil...such a precise shadow of our Lord, who is the Bread of Life. We can surely see God! But first, we must have our ear pierced (giving us ears to hear) what the Spirit is saying to the church; forgetting any man teachings about God we may have heard that is not true in Christ. As we study the life of Jesus Christ (especially those in the Tabernacle in the Wilderness and then in His earthly walk), He reveals Himself and removes all mystery about the nature of God.
Each time we read of what Jesus did and WHO He was all through Moses writings, the prophets and the gospels, we are actually beholding the nature of God. Every time we listen to what Jesus taught, we are hearing the voice of the Living God. He is the image of the invisible Father. In Him all the fullness of the Godhead dwells in bodily form. Jesus is God's form. He always did on earth those things He saw His Father doing in heaven; He spoke on earth what the Father spoke from heaven, and when we see this. we are changed into His likeness.

Would we see God? It is important that we allow His Spirit to baptize us into His body and study to show ourselves approved and we will "see Jesus". Holy Spirit reveals Him to us. It is a fact that other teachers will edify our souls greatly, but no prophet or teacher excels the revelation of God in Christ Jesus. Think on Him and as we receive revelation of WHO HE IS, then not only will we see the nature of the Father, He nature will become part of us. Eat His words and we assimilate (we are what we eat) into our spirit the substance of the Almighty. Even as the high priest of the first covenant put the bread on the table and removed it, giving it to his sons to eat. even so does Jesus Christ today. It was taken to the DOOR and the sons partake of it there. Jesus said He is the DOOR and that is where we come to eat His flesh and drink His blood. One of these twelve loaves was used for a burnt offering, leaving eleven. All loaves were the same size and all were pierced and anointed. Even this speaks of the eleven who remained with Him until He was taken away to be sacrificed. We, as they can have His anointing (glory) and our ears must be pierced in order to receive His revealed Words. This Holy Bread is not a theory. He is a reality.
God spoke to the prophets in various ways. All their words and thoughts edify our souls; they are all profitable for reproof and correction. They all speak of and point to Jesus. Since He came, God speaks to us by His Son." His sheep know His voice and another they will not follow. Prophets spoke of the way; Christ is the way. Teachers expound the truth; Jesus is the truth. Apostles proclaim the life; Jesus is the life. The Lampstand became a LIFE and His Life is the light of men: All speak the word, but the Son of God is the Word. The Bread became a man and that man is Jesus. He is the revelation of God, the sole statement of His invisible glory. When Christ speaks, we are listening to God unveiled. He never covered the glory that emitted from Him as Moses did after Sinai, instead He carried some of His disciples UP to a mountain and allowed them to see Who He was...and Moses and Elijah that appeared with Him disappeared and they beheld His glory.. You see the Law and Prophets are all in Jesus Christ. He is all Truth, He is all Word, and the law of the Spirit of life in Him makes us free from the law of sin and death.

Jesus said the pure in heart will see God. How valuable are Christ's words? To each who chooses to abide in the words of Christ, He has promised to reveal Himself. His promise is not reserved for a end-time experience .. all will look on Him then...even those who pierced Him. He desires to fulfill His word now. He created us to live in union with His Presence. He is this Bread of Presence...taste and see that the Lord is good and look into the face of God. This bread was too Holy to cut, it is no wonder Jesus told his disciples at the last Passover meal before He was offered up: "Take, eat...this is my Body that is broken for you." Then He broke the bread and they took it from His hand and ate. He is still inviting His followers to eat this Living Bread of His Word that He reveals to us by His Spirit. Later He was pierced and that is shouting ground, and we will go into that in detail when we study the Veil.
When our High Priest prayed before He was offered up, "Father, I desire that they also, whom Thou hast given Me, be with Me where I am, in order that they may behold My glory", how can we be satisfied ignoring the promise in this prayer? We can be with Him where He is. He specifically prayed that we behold His glory." Are we seated with Him in the Spirit today, beholding His Face, resting in the Word? This priestly prayer was not for so called leaders, but to all who abide in His Word. This is explained in detail in the Mercy Seat teaching.

Abraham saw His glory and God cut covenant with him. Moses saw this glory along with Aaron, his sons, the seventy elders of Israel, and over one and half million Israelites at Sinai. They followed a cloud of glory by day and were illuminated by a pillar of fiery glory at night, not just once, but every day for nearly forty years, kings David and Solomon, prophets Isaiah saw His glory as he was praying at the incense altar, Daniel, Ezekiel, Habakkuk, Zechariah and Haggai all saw the glory of God.

These imperfect people beheld God's glory and wrote about it! Why would Jesus deny us since He was very clear in saying that he who is least in His kingdom is greater than these! The glory of God which was on Moses when he came from God's presence faded from Moses' face. This glory of God that filled Solomon's temple, after he publicly dedicated it, did not depart until the priesthood of Eli ended at his death, now dwells in our spirits. It will not fade from those who are the sons of the Melchizedek Priest..Jesus Christ. We are not Ichabod.. the glory has not departed from the priesthood we are birthed into. The glory in us will not fade, but increase, especially as we partake of the Bread of His Presence. We can be filled with His glory! Think on His words and deeds . For to steadfastly gaze upon Jesus, is to behold "the glory of God in the face of Christ".
The tribe of Dan camped on the north side of the Tabernacle in the Wilderness where the Bread table rested, (along with his two brothers Asher and Naphtali) and Dan's standard (banner) was lifted about these three sons of Israel with an Eagle portrayed thereon. Isaiah said that those who wait upon (serve) the Lord will renew their strength to mount up with wings as eagles.. eagles eat fresh meat and the Bread of Faces is meat indeed. The Spirit is speaking fresh Word to those in the Eagle company. Between the tents of Dan, Asher and Napthali and the Tabernacle itself was camped Meraria, a son of Levi. His name means "bitter" which brings to mind the scripture in Revelation to John Saying, "eat the book and it will be in your mouth the sweetness of honey, and it will be bitter in the belly". As we eat the Word..it is sweet to taste and when it goes into the inner man and begins to drive out our soulish nature.. it is bitter indeed. Yet when we speak it forth again, it is sweet as honey. There is the sweetness of honey in the Lion of the tribe of Judah.
This Table of Gold was crowned with a double crown, which held the hallowed bread in place, even in transit. Jesus was crowned with double crowns also, and the one of thorns is the one He wore to the cross, the gold crown is in heaven. He is now King of Kings and Lord of Lords.